How do you find bliss during an otherwise hectic morning or workday?  May we suggest cake?  Not just any cake but the perfectly sized Cinna-Crumb Streusel Cakebites.  The Cinna-Crumb Streusel is our contribution to the evolution of the "coffee cake", with roots in 17th century Europe where it was customary to enjoy tea and coffee with sweet breads.  Over time, the most skilled bakers developed a light buttery cinnamon cake topped with deliciously sweet streusel.  We have added smooth cinnamon jelly between the thin layers of cake to create our Cinna-Crumb Streusel Cakebites!  You can now take this perfectly portioned classic on-the-go with your breakfast or enjoy it as an afternoon snack!  We hope you enjoy this permissible indulgence as much as we do!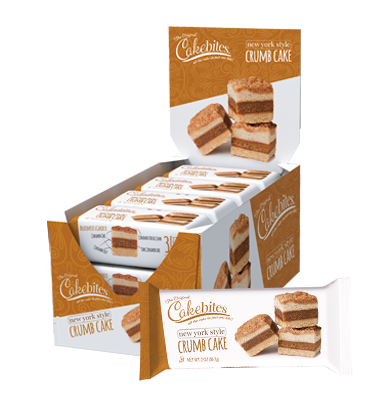 Check Out All Of Our Amazing Cakebite Flavors!
We would love to hear from! Drop us a line and we will be sure to get back to you!